It is with great sadness that the family of Dennis Arnold announces his passing after a brief struggle with pancreatic cancer, Saturday, July 7, 2018, at the age of 70.
Dennis was born on May 13, 1948 in Chicago, IL to Stanley and Dolores (Erdmann) Arnold. He graduated from Prospect High School in 1966. He attended Northern Illinois University where he met Mary Cragan. Dennis and Mary were wed at the Newman Catholic Student Center of Christ the Teacher Parish in September of 1969. Dennis graduated from Northern Illinois in 1970 and joined the Rockford Fire Department.
Dennis was a proud member of the International Association of Fire Fighters, Local 413, where he took an oath to serve and protect the citizens of Rockford with dignity and respect. Dennis retired as Captain in June of 1998 and was awarded a key to the City for distinguished service.
Dennis was a lifelong fan of the Chicago White Sox and the Chicago Blackhawks. He especially loved spending time with his family and friends fishing in Northern Wisconsin and hosting cookouts.
Dennis is survived by wife Mary; sons Matthew (Pamela Wesely) of Iowa City, IA and Daniel of Rockford, IL; grandchildren Fiona and Malcolm; siblings Pam Arnold and Scott Arnold; in-laws June (Charles) Bratina, John (Elizabeth) Cragan, Barbara Cragan; as well as many cousins, nieces, and nephews. He was predeceased by his parents; in-laws Clarence Cragan, Florence (McDonnell) Cragan; James Cragan, Angela (Frankovich) Cragan, and Joseph Cragan. Dennis wanted everyone to know that he loved being a part of two families — one through blood and marriage, and the other the Rockford Fire Department.
Friends and family will remember Dennis for his quiet and steady support.
A celebration of life will be held on Wednesday, July 11, 2018 at Fitzgerald Funeral Home & Crematory, 1860 S. Mulford Rd. Rockford, IL, beginning with a visitation at 1:00 p.m. followed by a brief ceremony at 3:00 p.m. with Rev. William R. Wentink officiating.
Memorial donations in memory of Dennis may be made to the
Rockford Firefighters Relief Association, Inc.
204 South First Street, Rockford, IL 61104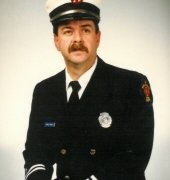 Denny Arnold, Captain
Rockford Fire Department
Years In Service: 28